Who says you need a large-scale party to celebrate a birthday? You don't! Birthday celebrations can take many forms and it's all about making the birthday person feel special on their big day. Here, we'll explore some fantastic alternatives to traditional birthday parties that are perfect for anyone from your one-year-old  to your older children.
Imagine the joy on your kid's face when they wake up to a scavenger hunt around the house, or the laughs shared during an impromptu family board game marathon in the living room. These simple yet memorable moments create great memories without breaking the bank or stressing out busy parents with party planning duties.
From exploring local farms and parks as part of a fun-filled day trip, indulging in favorite foods at home, or even having an online Netflix party with close friends – there are countless ways to make someone's birthday extra special without throwing a massive bash. Stick around as we explore creative birthday party alternatives- whether it's your child's first birthday or your grandparent's golden jubilee!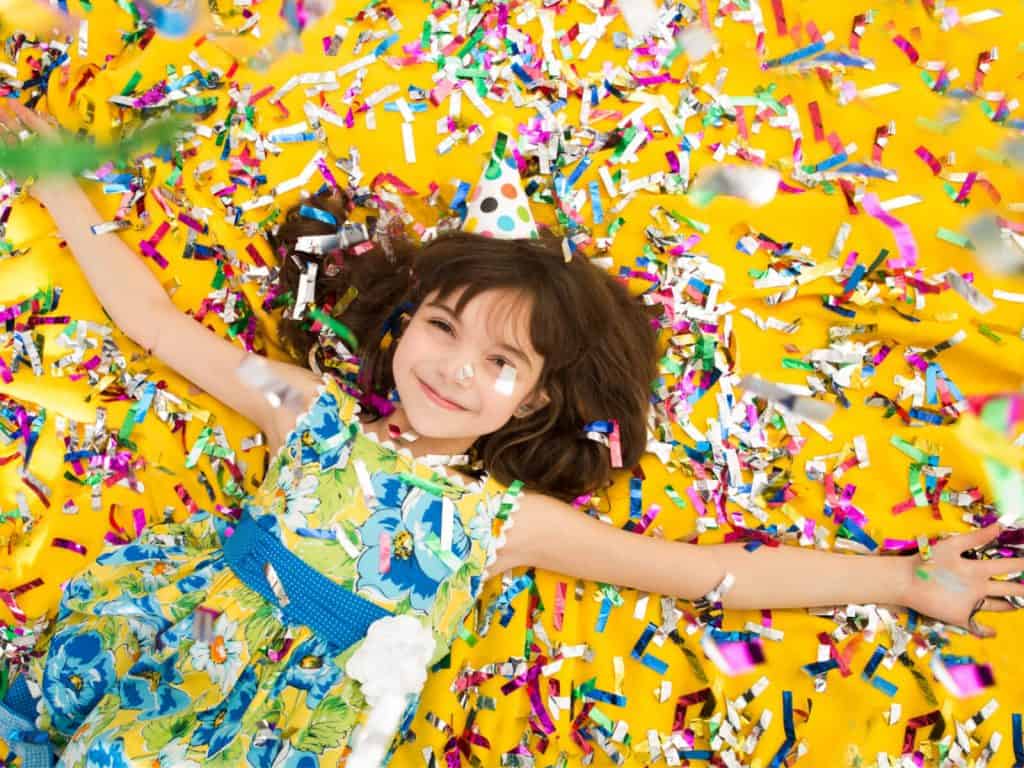 Is It Okay To Not Have A Birthday Party?
When it comes to marking your child's birthday, you might be tempted to think a big party is the only way to go. But let's take a step back and remember what we're really celebrating here.
A birthday is more than just cake and balloons – it's about acknowledging the growth of your little one over the past year. It's their special day, a chance to reflect on how they've grown and changed.
Emotional And Physical Stress
Planning for kid's birthday parties can be entirely stressful for the adults involved. First, you have to gather up birthday invitations and send them out to the invite list whether they are sent online or through snail mail.
Then you have to wait for the invitees to RVSP, which many of them do not. Then you have to follow up with the invitees who haven't responded after a specific timeframe.
There's no guarantee that they would respond to you either way. Now you have to take your chances on how many supplies and how much food to get.
Once the party starts you have other kids and possibly their families to stress over. That is if it is your child's first or second birthday. At least with the parents being present during the birthday party, they will be taking care of their kids.
However, if your child is in kindergarten or is older and wants their friends to come without the parents being present, you have all of these other kids to face. And what happens if one of them gets sick or gets hurt? The responsibility is on you. Is it worth the stress?
Birthday Parties Can Be Expensive And Time-Consuming
It does not matter if you plan to host a birthday party for your child at your home or an indoor kids' entertainment center. Birthday parties are expensive, and the cost of supplies, food, cake, and rent if the party isn't hosted at home adds up.
Speaking from experience I easily spent almost 1,000 dollars on my baby's first home birthday party! It was a shock to me because I naively budgeted about 500 dollars for the house party. After it was all said and done between food, decorations, gifts, and entertainment I was wayyy over budget.
And money is not the only thing that adds up. It is time. There is so much time consumed when it comes to planning a birthday party.
Sure, you can easily host an "inexpensive" party at home that consists of cheap snacks, paper products and a movie that kids can watch.
However, even if cost isn't the issue, go back to the point above this one. A cheap birthday party does not mean it will be less stressful and less time-consuming.
Too Many Gifts That Never Get Used
What happens when plenty of kids or adults are invited to your child's birthday party? They bring gifts (well they should anyway since you were kind enough to ask them). But what happens to all of those gifts?
Your child might only play with a few and for a short amount of time. The rest of the gifts end up collecting dust as they take up space.
Your Child That Does Not Have Any Or Many Friends
Toddlers that have birthday parties will not have friends except for their classmates they know from preschool. You will be stuck with having to invite the parents of those kids that you don't even know. That can be awkward.
Or, how about if your child does not have many or any friends at school? In that case, your child may not even want a birthday party at all.
What is the solution in this case? The best thing to do is to think outside of the box and come up with birthday party alternatives.
What Can I Do Instead Of A Birthday Party?
The great news is that you can celebrate your child's birthday without being pressured to throw a big birthday party. In fact, in any way you celebrate your child's special day, it can be as memorable for your little one as any birthday party.
Even if your child is not old enough to remember their birthday celebration, you can still make memories to share with them later! Now let's look at some birthday party alternatives for kids.
How To Celebrate Birthday Without A Party

1. Celebrate With The Close Family
That is not an unusual birthday party alternative. However, this is one that parents often forget about being a great option to celebrate their child's birthday.
You can always get party favors such as banners, balloons, birthday cutlery, and party hats. You can get a cake, and only have close family members coming by to join the fun or family dinner.
That may even be more enjoyable than having a birthday party with other kids and their parents who you barely even know. Besides, your child can be excited about the idea that their favorite aunt or uncle will be coming to their intimate birthday celebration with the family.
2. Finger Painting Birthday Celebration
This birthday alternative is perfect for the toddler. This is an ideal method for how to celebrate the first birthday without a party. 
Grab some washable finger paints like these, lots and lots of paper, and plenty of rags and cloths. Your toddler can have plenty of fun finger painting during their first, second, or third birthday.
And why not get some extra paints for you and your partner so you can all join in on the fun? Who needs to worry about a birthday party when everyone is having fun making their masterpiece with finger paints!
3. Decorate The House
Even if you are not planning to invite your family over for a quiet celebration for your child, you can still decorate the house. And go overboard with it!
Grab some streamers as well as plenty of banners and balloons. Grab other simple decorations like banners or posters.
There are even themed kits that make it easy to go all out. This way, your child will feel special since it is decorated just for them on their extraordinary day. 
And don't forget to take plenty of pictures of the decorated rooms. You'll regret that otherwise, after you take down those decorations. You can even decorate the outside of the house.
Go and put streamers on the porch and a birthday sign on the lawn. Make it known to the whole neighborhood that the birthday star of that day is in that house.
4. A Giant Helium Age Number Balloon
You know another thing that kids are guaranteed to love? A giant helium age number balloon! You can have your child stand next to the number balloon while holding it and taking plenty of pictures.
Don't forget to share them on social media if you want! Your social media friends and family can celebrate your child's birthday with you.
5. Serve Your Child A Birthday Breakfast
Why not start your birthday boy or girl's day just ideally by surprising them with a birthday breakfast? It can be waffles, pancakes, or your child's favorite cereal.
And to add some fun to it, why not create a 'design your pancake or waffle area? That area will consist of sprinkles, syrup, fruit, whipped cream, or chocolate chips. Serve it on some fun birthday cutlery as well.
6. Birthday Scavenger Hunt
A scavenger hunt around the house or at a local park can also turn into a fun activity that keeps your birthday kid engaged and excited throughout the day.
Hide their birthday present and create clues leading up to it – bonus points if you manage to keep them guessing until the very end!
This game fits perfectly for older kids who love solving puzzles.
---
Other Helpful Posts You Might Like:
7. Go Over Birth Story Memories
While the house is decorated in birthday art, you can dedicate this day to your child by focusing on the story of their birth and their memories as babies. Kids are always fascinated by those stories.
Put on a video of them as newborns in the hospital or at the home after they were born. Bring out the personalized keepsake box of the first items they had as babies.
This birthday party alternative is ideal for kids that are past the kindergarten stage. 
8. Outdoor Movie Night
An outdoor movie party is a great alternative birthday party for kids! Choose a movie that is appropriate for the age group of your child. You don't want to choose a movie that is too scary or too violent for younger kids.
Make sure you have enough outdoor space and choose comfortable seating options.
Make sure you have plenty of snacks and drinks! Popcorn and candy are always popular choices, but you could also get creative with themed snacks that match the movie you're watching.
9. Food Truck Celebration
Food trucks? Yep, they're like little rolling restaurants with all sorts of fun eats. From good ol' burgers and fries to some international dishes, it's a fun way for the kids to try out something new. And who knows? Maybe they'll find their new favorite snack!
The cool thing about food trucks is how laid-back they are. No need for fancy table manners here. Just grab your food, find a cozy spot on the grass, or a park bench and munch away. It's like a picnic but with way more food choices.
If you hit up a food truck festival or a local event, there's usually more fun in store. Think live music, maybe some games or crafts . It's like a mini carnival with the bonus of awesome food!
10. Thrifting Time
Think of thrift stores as little time capsules. Each shelf and rack is brimming with items that have stories of their own. Your child can embark on a mini treasure hunt, sifting through toys, books, or funky clothes. Maybe they'll find a retro toy that was popular during your childhood, sparking conversations and shared moments. The best part? The sense of accomplishment when they discover that perfect item. It's like a mini birthday treasure hunt!
11. Dollar Store Dash
Then there's the magic of the dollar store or a store like Five Below. Kids love that place!. It's amazing what a few bucks can buy. Set a small budget – maybe $5 or $10 – and let your little one's imagination run wild. They could pick out craft supplies for a DIY project, choose a new toy, or even select fun party favors for their friends. The joy isn't just in the buying, but in the choosing, the freedom to decide, and the fun of stretching that dollar.
While the goodies are great, the real gem of these outings is the quality time spent together. It's about the laughter when trying on a wacky hat, the excitement in their eyes when they find something they love, or the silly debates over which toy is cooler. At the end of the day, they'll remember the fun adventure and the memories made, way more than the price tag.
12. Family Camping Trip
The sun gently warms your skin, the sound of chirping birds is in the air, and the scent of campfire and roasted marshmallows brings a sense of comfort. Ah, yes, the family camping trip – where everyday troubles fade away, replaced by the soothing embrace of nature and quality time with loved ones.
Once you've pitched the tents and set up camp, the real fun begins. Days are filled with explorations, be it hiking, fishing, or simply strolling around the campsite. Evenings? They're reserved for campfire stories, songs, and bonus points for the quintessential camping treat: s'mores.
13. Sporting Event
A Whole New Ball Game! No pun intended! Celebrating at a sporting event is a refreshing change from the usual party routine. The atmosphere is electric with excitement, the crowd's energy is contagious, and there's always the thrill of rooting for your favorite team. Plus, the birthday star gets to enjoy it all surrounded by friends and family.
Part of the fun can be getting dressed for the occasion! Team jerseys, face paint, foam fingers—the works! And instead of traditional party favors, how about gifting fun things like mini footballs, baseball caps, or even tickets to the next match?
Move over, pizza slices and soda! At a sporting event, the menu gets an upgrade. Think hotdogs dripping in mustard, pretzels, cotton candy, and maybe even some nachos. Sure, it's a bit of a junk food paradise, but hey, it's their birthday!

Where To Take Kids For Their Birthday: 75 Great Alternatives
​Instead of a few hours at a party venue, why not spend the entire day on an adventure?
Whether you're taking your little sunshine to an amusement park, local farms, state park, or even a petting zoo – the most important thing is spending quality time together as a family and creating amazing memories.
The good news is that most of these places are a better way to celebrate for non party birthday ideas and perfect for various age groups so everyone can have lots of fun!
Fun day suggestions include:
Zoo: Experience the wonders of the animal kingdom up close.
Aquarium: Dive into an underwater world without getting wet.
Amusement Park: Rides, games, and endless fun.
Science Museum: Interactive exhibits to spark their curiosity.
Planetarium: Travel through space and stargaze.
Art Studio: Paint, sculpt, and get creative.
Children's Museum: Hands-on learning and play.
Bowling Alley: Strike up some fun and friendly competition.
Roller Skating Rink: Glide to their favorite tunes.
Ice Skating Rink: Chilly fun and hot cocoa afterward.
Trampoline Park: Bounce around and defy gravity.
Pottery Studio: Paint and decorate their own ceramics.
Indoor Play Center: Climbing, sliding, and imaginative play.
Arcade: From vintage games to the latest tech.
Indoor Mini-Golf: Themed courses and fun obstacles.
Outdoor Adventure Park: Zip-lining, rope courses, and more.
Nature Reserve: Explore the great outdoors and spot wildlife.
Botanical Garden: Wander among blooming flowers and unique plants.
Horseback Riding: Saddle up for a gentle ride.
Farm or Petting Zoo: Get up close with farm animals and learn.
Magic Show: Wonder and amazement with every trick.
Theater or Puppet Show: Engaging stories brought to life on stage.
Escape Room (for older kids): Solve puzzles and mysteries together.
Dance Studio: Groove, move, and shake to their favorite beats.
Cooking Class: Whip up something delicious and learn culinary skills.
Sports Game: Cheer on their favorite team from the stands.
Beach or Pool Party: Sun, sand, and water splashes.
Historical Sites: Step back in time and learn about the past.
Public Parks: Picnics, play structures, and open spaces to run.
Camping: Tents, campfires, and stargazing.
Boat or Cruise Trip: Sail the waters and enjoy scenic views.
Indoor Skydiving: Experience the thrill of free-fall safely.
Rock Climbing Center: Challenge and fun rolled into one.
Railroad or Train Tour: Chug along scenic routes.
Library or Bookstore (themed party): For the little bookworms.
Karaoke Lounge: Sing their heart out with friends.
Butterfly Conservatory: Walk among fluttering, colorful wings.
Build-a-Bear Workshop: Create their own stuffed buddy.
Toy Store Adventure: A treasure hunt leading to a birthday gift.
Observatory: Gaze at stars, planets, and the vast cosmos.
Sports Complex: Play soccer, basketball, or their favorite sport.
Craft Workshop: Make jewelry, sew, or try other crafts.
Circus: Acrobats, clowns, and thrilling performances.
Stargazing Trip: Spot constellations and shooting stars.
Movie Theater: Grab some popcorn and watch the latest blockbuster.
Indoor Water Park: Slides, waves, and a whole lot of splashing.
Chocolate Factory: See how sweets are made (and maybe sample a few!).
Robotics Workshop: Build and program their own robot.
Fairy Tale Park: Step into a world of princesses, dragons, and magic.
Sports Camp: A day of training and fun in their favorite sport.
Interactive Game Center: Virtual reality, laser tag, and more.
DIY Craft Store: Pick materials and craft the day away.
Rooftop Garden: Urban green spaces with fantastic views.
Treehouse Adventure: Climb and explore unique tree-top structures.
Gem Mining: Dig and discover precious stones.
Safari Adventure: Drive through and spot exotic animals.
Interactive History Park: Role-play in different eras from the past.
Space Center: Rockets, astronauts, and all things outer space.
Dinosaur Park: Walk with life-sized replicas of prehistoric giants.
Maze or Labyrinth: Navigate twists and turns for a fun challenge.
Themed Restaurants: Dine in settings from pirates to outer space.
Indoor Snow Center: Skiing or snowboarding regardless of the season.
Interactive Music Hall: Play instruments and learn about music.
Haunted House (for older kids): A thrilling spooky adventure.
LEGO Land or Center: Building challenges and colorful bricks.
Virtual Reality Arcade: Dive into different worlds and games.
Go-Kart Racing: Speed around tracks and feel the thrill.
Ballet or Dance Show: Elegant performances to captivate.
Bird Sanctuary: Observe and learn about different bird species.
Candy-making Workshop: Create and taste sweet treats.
Bike Tour: Explore the city or countryside on two wheels.
Fishing Trip: Patience, excitement, and maybe a big catch!
Indoor Adventure Course: Climbing walls, tightropes, and tunnels.
Pizza-making Place: Toss, top, and taste their very own pizza.
Mobile Game Truck: Video games brought right to your driveway.
No Birthday Party? No Problem
So here's the good news for busy parents—your child's special day can still be a blast without a big birthday party! With a little creativity and planning, you can create an unforgettable experience that they'll cherish more than any traditional party. Good luck planning your next celebration!
There are many creative ways to celebrate your child's birthday without a party. The way you celebrate can also depend on the age, as well as the development of your child. Either way, you know that you do not need a party to have a fun birthday celebration for your child!
Remember that whatever method you choose should ultimately reflect your love and appreciation towards them—because that's what they'll remember years later, not the size of their cake or the number of balloons. By celebrating in these non-traditional ways, you're creating unique birthday traditions that your loved ones will look forward to each year.