Wondering when your baby can drink cold formula? It's a question that many parents might ask, especially in the middle of the night, when warming up a bottle could feel like an eternity.
You'll be relieved to know that according to guidelines from the American Academy of Pediatrics, it's perfectly safe for babies to consume room-temperature or even cold formula. In fact, there isn't a medical reason why infants can't drink cold milk.
However, just because they can, doesn't necessarily mean they will. Every baby has their own set of preferences, and some might not appreciate the chilliness against their tiny taste buds.
Many infants find warm milk comforting and easier to digest due to its proximity to body temperature. But if your little one doesn't mind a cooler bottle — congrats! This means feeding times could become more convenient for you.
In this post, we're going to go into the pros, cons, and latest recommendations so that the next time you're standing in front of the fridge at 2 a.m., you'll know exactly what to do. Keep reading to get the scoop—no pun intended—on when babies can start enjoying cold milk.
Cold Formula For Newborn and Babies: The Basics
You're probably wondering, "At what age can my baby start drinking cold formula?" According to the American Academy of Pediatrics (AAP) and the Centers for Disease Control and Prevention, there isn't a specific age when it's deemed acceptable to introduce cold formula.
The best choice is often determined by your baby's needs and personal preferences. Some infants may prefer warm milk, while others won't mind colder temperatures.
It's important to understand that infant formula doesn't need to be warmed up for any nutritional or medical reasons. Many new parents find themselves waking in the middle of the night, scrambling to warm bottles while their babies cry out in hunger.
If you've been there, you'll appreciate knowing that feeding room-temperature or even cold formula is perfectly safe and might save you some precious sleep.
Incorporating Cold Formula into Your Baby's Diet
Introducing cold formula into your baby's diet can be as simple as preparing it with cool tap water if you're using powder-based formulas.
For ready-to-feed liquid formulas or those prepared ahead of time and stored in the fridge, ensure they are well mixed to avoid any 'hot spots' before giving them to your child.
Remember that each baby is unique; what works for one may not work for another. Start by offering small amounts of cooler temperature milk alongside regular feedings – this way, if your baby rejects the chillier bottle, they still get enough nutrition from their warm feedings.
Is It Okay For Babies To Drink Cold Formula? Safety of Cold Baby Formula
When it comes to safety, serving a cold bottle of milk isn't inherently risky—it's all about ensuring proper storage and handling practices are followed consistently.
Make sure bottles used for feeding are thoroughly cleaned and sterilized regularly. Prepared formula should ideally be consumed within an hour after preparation but can safely stay in the refrigerator at 40°F (4°C) or below up until 24 hours.
However, keep in mind that younger babies—particularly premature infants who have weakened immune systems—may benefit from warm milk because it feels more similar to breastmilk and could be easier on their developing digestive system.
Can Newborns Have Cold Formula?
Let's face it, as new parents you're learning on the go. One question that might pop up is about serving cold formula to your newborn.
Well, here's the scoop: newborns can technically drink cold formula. However, it's usually not the best choice for their delicate digestive system. Most infants prefer warm or body temperature milk which mimics the natural temperature of breastmilk.
Premature babies and young infants with a weakened immune system may also need extra precautions taken when preparing their bottle. The American Academy of Pediatrics recommends that ready-to-feed formulas are served at room temperature right out of the container for these little ones.
Pediatrician Advice on Cold Baby Formula
Your baby's pediatrician is your best ally in understanding what's good for your baby at different stages of growth. When it comes to formula feeding, most health care providers suggest warming bottles to body temperature since this approximates mother's milk and may soothe your baby.
However, if your child has reached a stage where they show preference for colder drinks or have started sampling solid foods at around 6 months of age, having a cooler bottle could be an option worth trying.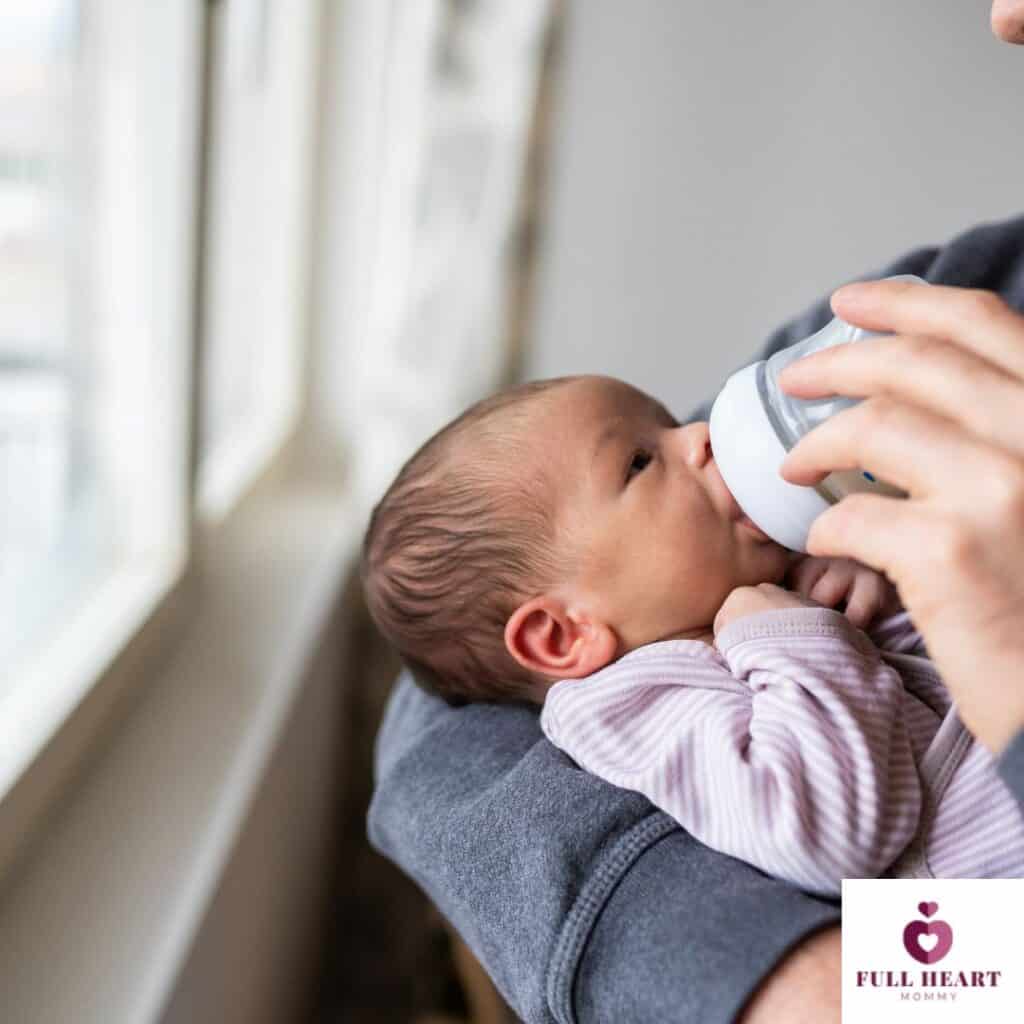 Cold vs Warm Formula: Is Warm Formula Easier to Digest?
The big question then becomes: does formula temperature impact digestion? Despite popular belief, there's no scientific evidence suggesting that warm liquid digests differently than cold in a baby's stomach.
Some parents find their babies seem less fussy with warmed milk because it feels more comforting and familiar. Others see no difference and value the convenience of room-temperature or even slightly chilled formula, especially during those middle-of-the-night feeds!
One potential risk is that heated bottles can create hot spots if not mixed well which could burn your baby's mouth – always test the temperature on the inside of your wrist before feeding.
So whether you choose warm or cold bottles largely depends on personal preference – yours and baby's! But remember – ALWAYS consult with your healthcare provider when making dietary changes for your infant.
Differences Between Warm and Cold Formula
When it comes to feeding your baby, there's a lot of debate about the difference between giving their baby warm formula versus cold milk.
The truth is, the temperature of your baby's bottle doesn't affect the nutritional value. Both warm and cold infant formula provide all the necessary nutrients for your little one to grow healthy and strong.
However, body temperature milk – that is, warm milk – can sometimes be more easily accepted by babies. This preference likely stems from breastfed babies being accustomed to receiving their mother's milk at body temperature. Serving a bottle of formula at this same temperature could make the transition easier for them.
What does differ in terms of serving up hot or cool liquid meals? There are practical aspects worth considering:
Ease & Convenience: In the middle of the night, preparing a warm bottle might feel like too much hassle! On these occasions, room-temperature formula or even a colder bottle could prove more convenient.
Safety Concerns: When using hot water for warming up baby's milk, it's crucial to avoid "hot spots" caused by uneven heating. These can burn your baby's mouth.
Digestive Comfort: Some believe that warmer bottles can help soothe tummy troubles in babies with sensitive digestive systems.
Evaluating Your Baby's Reaction to Cold Formula
Of course, every child is unique – what works best for one might not work as well for another. It's always a good idea to observe how your own little munchkin reacts when trying something new like drinking from a cooler temperature bottle.
Some infants gulp down chilled drinks without any fuss while others may show clear signs they prefer their meal served warmer – think turning away from the nipple or refusing to drink at all!
In some cases (like premature infants), healthcare providers might recommend only providing warmed feeds due to specific medical conditions. Always follow their advice first before making any changes in feeding routines.
So don't worry too much over serving up perfectly warmed bottles each time; remember that ultimately it's less about hitting an ideal temperature and more about ensuring comfort during feeding time based on both your and baby's preferences.
It ultimately comes down to personal preference rather than an inherent risk associated with cold formula.
Role of Baby's Age in Accepting Cold Formula
While it's generally safe for babies to drink cold formula, their acceptance towards colder temperatures could vary depending on their age and feeding habits.
For instance, newborns (0-3 months) who are still adjusting to bottle feeding might take better to warm milk since it more closely resembles breastmilk temperature.
On the other hand, older babies 6 months and older who have been introduced to solid foods and other types of beverages might be more open-minded about trying colder drinks like a cool bottle of water or even a cold bottle of milk during hotter months.
The Nutritional Value of Cold vs Warm Baby Formula
One common misconception regarding baby's formula involves its nutritional value – does heating up a bottle cause any loss in nutrients? Good news! Whether you serve your infant's feed hot or chilled doesn't affect its nutritional content according to recent research by nutritionists.
In fact, heated bottles may sometimes pose more risk due premature overheating leading 'hot spots' which can potentially burn the inside of your baby's mouth if not properly checked prior to serving. Bottle warmers are available as tools but they aren't necessary – a simple bowl of warm water works just fine for warming up a bottle safely.
Pros and Cons of Feeding Your Baby Cold Formula
One benefit is convenience. Preparing a warm bottle in the middle of the night can be quite a hassle, especially for new parents running on little sleep.
With cold formula, you merely grab a ready-to-feed bottle from the fridge. This ease can significantly reduce feeding time, allowing both parent and baby to return to sleep quicker.
However, there could be downsides too. Some infants may reject cold milk due to personal preference or minor stomach discomfort caused by cooler temperature liquids.
Furthermore, the digestive systems of very young babies are sensitive; hence they might find it easier to handle room temperature fluids.
Final Thoughts On Cold Formula: An Ease or Hassle for Parents?
Many parents find offering cold formula an easy route given its straightforward preparation – no worries about creating hot spots from warming up bottles improperly or testing temperatures against the inside of your wrist every feed time! Plus, it's one less item (the bottle warmer) claiming space on your already crowded countertop!
On the flip side though, some parents feel that giving their infant chilled drinks adds another layer of unpredictability into an already chaotic routine – will my baby accept it today? Is his refusal because he doesn't like the colder temperatures today? These uncertainties may lead some parents back towards traditional method – serving room-temperature formulas.
Here are some points you should keep in mind:
Always check the milk temperature before feeding by sprinkling a few drops on the inside of your wrist.
Follow the manufacturer's instructions regarding preparation and storage.
Be mindful about hygiene; wash bottles properly after every use.
Seek medical advice if unsure about changing types of formulas or introducing solid foods into your baby's diet.
Ultimately, whether you decide on serving warm or cold formula depends on both convenience and how well your child accepts it. Just make sure whatever route you take aligns with safety guidelines for feeding practices recommended by health care providers and pediatricians alike.
There's no concrete answer about what age can babies drink cold formula; rather than focusing solely on the milk temperature focus more on maintaining cleanliness during preparation and storage procedures.
What matters most is making sure that all feeding practices meet your child's nutritional needs at their current stage of development effectively without causing any discomfort or harm.