At some point you'll need to take your newborn out of the house. Whether it's required, like a doctors appointment or its time to grocery shop, the time will come.
Getting out of the house with an infant can seem downright scary as a first time mom. Whether you need to roam the aisles of Target for some fresh air, or your fridge is desperately empty, this post will teach you everything you need to know about how to grocery shop with a baby.
Planning Your Trip
From the first news of your pregnancy to this date, you've been doing a lot of preparing and planning. Taking your newborn out is no different, you'll want to have a basic idea of how your outing will go.
Here are a couple of tips that I'll share with you to make the best of your shopping trip.
Make sure your baby has been fed. Few things are worse than a crying hungry baby that you're trying to feed and calm down in an unfamiliar environment.
A fresh, dry diaper means your baby will be more comfortable. Hopefully you can avoid a trip to the public restroom and changing your baby while you're out shopping.
Timing can be everything. Taking your baby shopping before a scheduled nap time means that they might fall asleep and sleep through a majority of the trip or entire trip if you're lucky.
Make a list of what you need! If you're actually going to the store to accomplish the goal of grocery shopping, wandering aimlessly through the store will only prolong the trip.
However, if this a social outing or breather for you to wander through the aisles of Target, then by all means ditch the list. You have my permission to join the welcoming community of Target Moms.
Have a back up plan of how you're going to soothe your baby if it becomes necessary. This varies depending on your baby and their age, but bring something in their diaper bag that comforts them or is familiar. Examples include pacifier, favorite toy, lovey or snack.
RELATED: What To Pack in A Diaper Bag
Park near the front of the store if you can. Closer parking means that you can get to and from the store in the shortest amount of time. Which may be necessary depending on the weather, if you're using a shopping cart, etc.
If you plan on actually buying things then you'll want to know how you can manage holding or carrying your baby while picking or looking at items.
We are going to discuss 4 options, from the car seat in the shopping cart, to the best strollers for grocery shopping.
Shopping With a Car Seat
The first thing you might be thinking when it comes to this option is, "When is it safe to have baby sit in shopping cart?" The answer to that is that babies should not ride in a grocery cart typically until they are able to sit on their own, unassisted.
If your baby is still in a car seat, you should never place the car seat on the top of the cart because they could fall over. Putting the infant sear inside the basket will limit the space available for food or anything else.
Grocery shopping with a stroller
This is pretty tricky to do, because you're pushing two things that can both weigh a considerable amount. My suggestion is that if you need to grocery shop with a stroller, you stick to a short list or light items that can fit in the bottom basket of the stroller.

How do you know if a stroller will be good for shopping? Some features to look for:
Easily foldable, great for if you have to hold the baby and put the stroller away at the same time.
Can accommodate a newborn/infant car seat or younger baby
Roomy basket storage with wide opening to access the things you'll put inside and easily take out

Shopping Cart Hammock
Another option for shopping with an infant is to use a shopping cart hammock. This is exactly what it sounds like! A hammock designed for infant use in a shopping cart.
The shopping cart hammock fastens securely to the cart and also has a secure seat harness and strap to keep your baby safely inside.
This is truly the most hands free option. The hammock is elevated in the cart which still allows for plenty of space for groceries or various items. When you're ready to go, you simply take baby out and you can roll the hammock up and stash it in your car or purse.
The biggest question you're probably wondering "Is a shopping cart hammock safe?"
The creators of Binxy Baby have a whole page dedicated to safety of their product. Several features promote safe use of the product like double layered fabric, reinforced stitching, safety strap and a 3 point harness seat belt.
Grocery Shopping With a Baby Carrier
Baby carriers are another hands free option that allow your baby to rest against you while shopping. If they're napping, wearing them will probably help keep them soundly asleep while you're shopping.
It also helps reduce the possibility of strangers touching your baby. People are a lot less hesitant to touch a baby when it's so close to your own body.
Shopping with a carrier is a safe and secure option. You won't have to worry about using any additional equipment for your grocery cart.
My favorite baby carrier is this one by Ergobaby. They are extremely comfortable and the hood feature is a lifesaver. It really comes in handy, the baby is less exposed to the elements. Even if my baby was awake when we got to the store, the lulling motion of my walking and the hood over her head puts her to sleep. Just like that you're shopping in peace!
Shopping Cart Cover
If your baby is 6 months or older and can sit unassisted, you could use a shopping cart cover for your trip to the store. They will have a little bit more freedom to move because they wont be constrained by a car seat or harness.
Shopping carts can be filled with germs, and your little one is probably anxious to explore. The cover is a barrier between direct contact with the cart and your baby. This option leaves the entire lower half of the basket free for groceries and other items.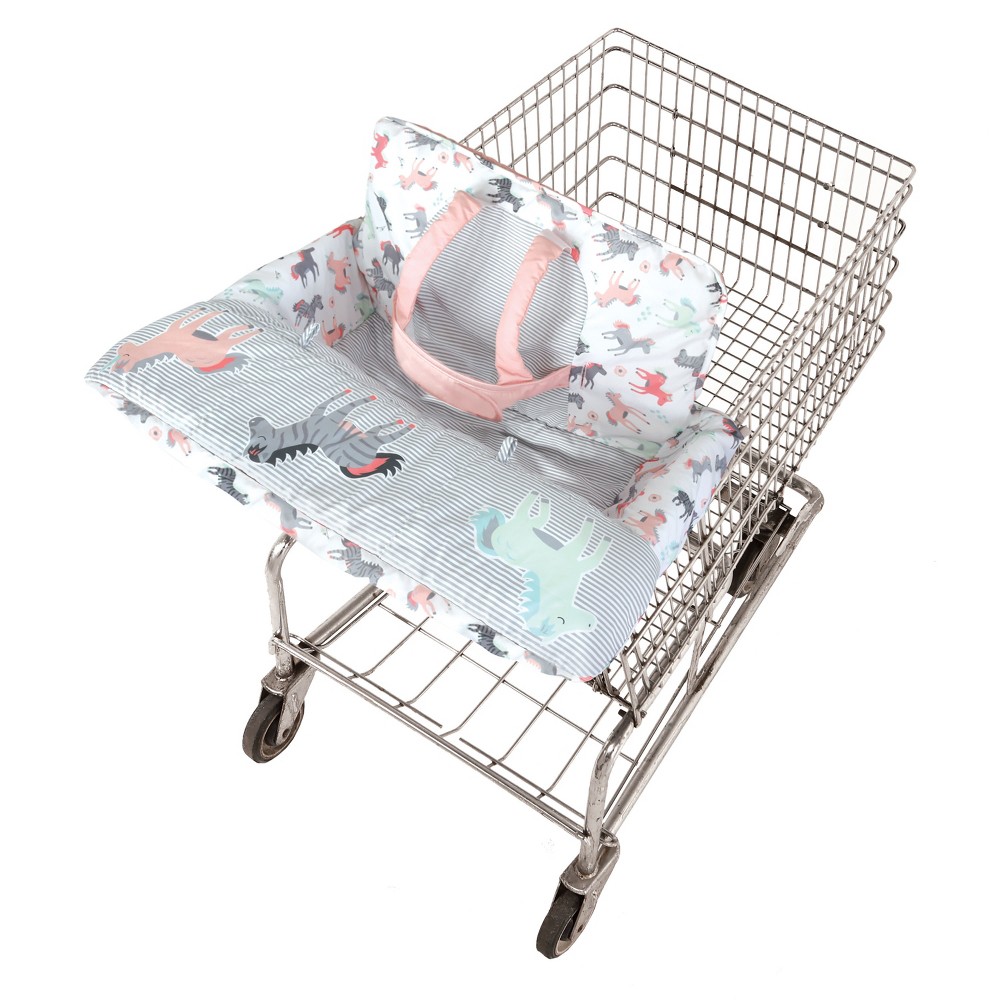 My favorite shopping cart cover is this one from Go by Goldbug. The cover has safety straps and padded leg holes. It covers the entire area where the baby is sitting. We also use it on restaurant high chairs, so it has more than one use!
Getting out of the house to shop with a baby or little one can be intimidating at first. With these helpful shopping tips you can get your game plan together. Before you know it mama, you'll be a pro at this shopping with baby thing!