Learn what to pack in a diaper bag when you're taking your baby out of the house, plus stylish diaper bag suggestions that won't make you miss your purse or handbag.
Baby Diaper Bag Essentials For A Newborn
I remember taking my baby out of the house for the first time since leaving the hospital. It was for one of those early doctors visits and I would be going by myself since my husband had returned to work. Panic set in as I wondered if I had all the things I could possibly need to take this tiny human outside.
The night before the appointment, I told my husband I was nervous about taking the baby out. He helped me pack the diaper bag and assured me that everything would be fine. It was indeed fine, we both survived the outing and I felt well prepared.
Related: How To Grocery Shop With A New Baby
As a first time mom, I felt it helpful to have someone help me with getting the things I needed ready to take the baby out. I want to return the favor, so let's get into the complete list of what to pack in a diaper bag.
What to Pack in A Diaper Bag For a Newborn?
I'll start with the non negotiable items that you will absolutely need for the baby. You really won't want to leave home without these things. This is especially helpful for newborns but can be applied to older babies.
Let's get into this list of diaper bag items from A-Z!
Diapers– You will need no less than 3-4 diapers even for a quick outing. The standard suggestion is 1 for every 2 hours you plan to be out. Keep in mind that smaller babies go through more diapers than older babies.
Wipes-Never know when you'll have to clean up a big mess while changing a diaper. They're also helpful for cleaning hands or faces. Travel packages tend to go faster than you think so you'd be better off going with a full size package of wipes.
Recommended: The Best Natural Wipes for Every Baby
Changing Pad– There will be places you will have to change your baby that you'd rather not put them down. Changing pads are the perfect barrier between your baby and those surfaces. Although many diaper bags come with changing pads, this is my favorite and the one I personally use. It's a soft and comfortable mat that is made of a material similar to a yoga mat and simple to clean.
Diaper disposal bags- You'll need some bags to put the dirty diapers in and as a bonus these can double as storage for soiled clothes. This way you wont have dirty clothing touching fresh outfits. If you would like to reuse old grocery bag sacks for this purpose that works just fine too.
Extra Clothing– Backup clothes are not an option! You never know when a blowout or milk spit up will happen. I know you dressed your baby in the cutest outfit before leaving the house, but keep a spare outfit or two in the diaper bag just in case. You may want to check the clothing options often to make sure they are weather and size appropriate.
Burp Cloth-Burping your baby is inevitable so you want to have something to put on you or over your clothing to handle the spit up. Burp clothes usually come in multiples so just throw a couple (yes, more than one) in your bag and you'll be prepared to handle whatever comes your way.
Bib-Pack several bibs for your baby to keep shirts dry from baby drool and spit up. There are so many options from tie to hook or snap closures. Either way do yourself a favor and keep them in your diaper bag.
Bottles-You will need these if you're formula feeding or breastfeeding ( you can use them to store expressed breastmilk). A hungry baby is not a happy baby. I've tried a lot of bottles but these have never leaked in my diaper bag. For that I am eternally grateful.
Receiving Blanket-A lightweight blanket that takes up little space in your diaper bag that you can use if your baby needs to take a nap or just protection from changing temperatures or environments.
Related: Receiving Blanket Vs. Swaddle
Pacifiers– If your baby takes a pacifier, you know how important it is to have several pacifier back ups. Take 2-3 backups so you won't get caught without one.
Hat-Helpful for keeping the beaming sun off baby's head in the summer and keeping heads warm in the winter. Hats are a diaper bag staple for any season.
Hand Sanitizer– Germs and dirt are everywhere but sinks may not be. Keep sanitizer on hand for those moments.
Save this to your baby board on Pinterest!
The next things on the list are nice to have, but not absolutely necessary. If you're a minimalist mama or you simply don't have room for these extras in your diaper bag, its okay to skip these. Keep reading for what to pack in a diaper bag that will make you feel super prepared for whatever the day brings your way!
Toys– Bringing along a comfort object or lovey that your baby enjoys can console your baby in a difficult situation. Having that little piece of home that your baby can keep with them in the car seat or even out in public has saved many a mom.
Extra Shirt for Mom-A change of clothes for mom never hurt for those unpredictable spit ups, but its not absolutely necessary. However, you'll be glad you had it if the time comes and your original shirt is completely ruined or stained.
Lip Balm– This goes for you mama, especially if you're using your diaper bag as a purse. You probably have lip balm in your purse, you can also throw it in your diaper bag.
Snacks-Keeping a healthy food option on hand for busy moms is super helpful for avoiding the drive through.
Lotion– All of that hand sanitizing or hand washing can be very drying on the hands. Keep a super moisturizing lotion in your bag to keep dry hands at bay.
Teethers– Not needed unless your baby is actively teething, and in that case pack whatever you can soothe those little gums.
Baby carrier– I love baby wearing but some wraps and carriers are not lightweight or foldable. My personal recommendation is the Boba Wrap, it folds down to a little square and comes with a carrying case made of the same soft french terry blend that the wrap itself is made of.
Nasal Aspirator– Stuffy noses are no match for this, it is the best investment you'll make in terms of baby gear. Do yourself a favor and buy two, one for home and the other for the diaper bag.
---
Other Helpful Posts You Might Like:
---
What To Pack In A Diaper Bag For The Hospital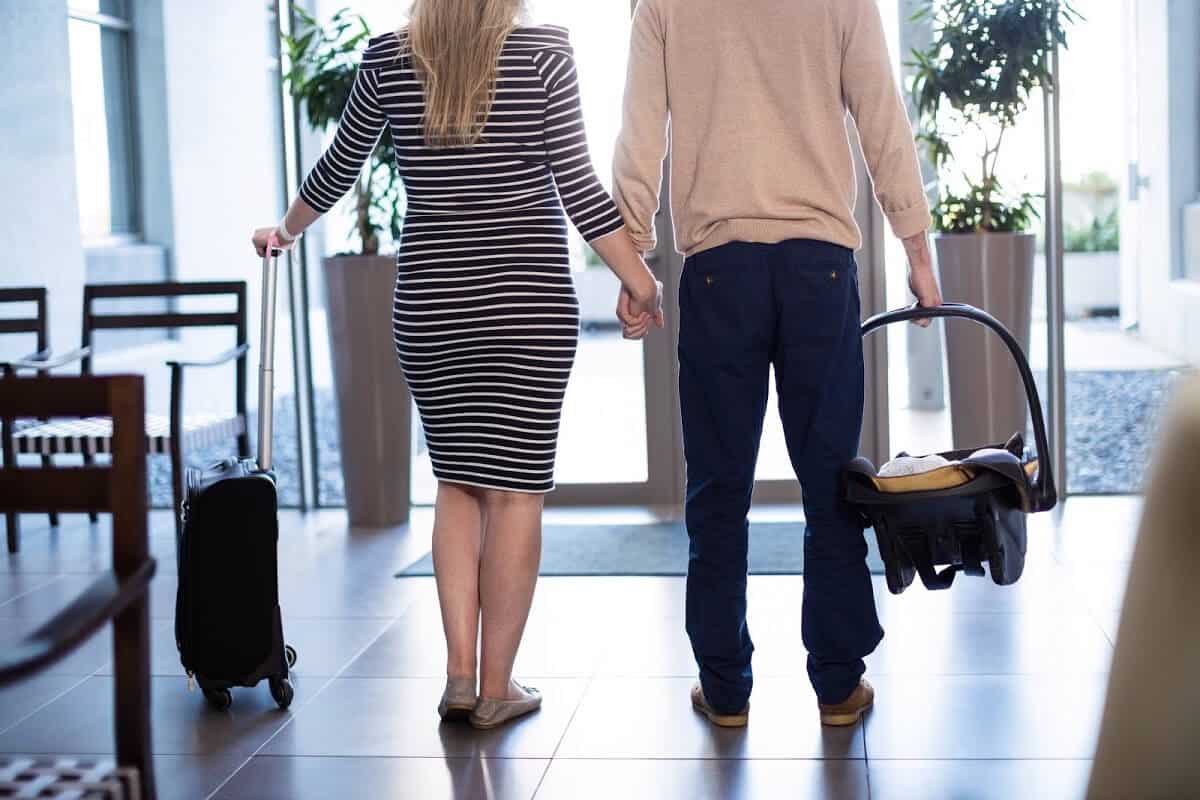 There's a lot to think about to prepare for having a baby, including what to wear after giving birth in the hospital for mom.
Here's what you'll need for baby while you're in the hospital. This list of baby essentials is a little shorter than preparing for a regular outing.
Ideally the hospital or birthing center will likely have a lot of things you need and also you usually plan on being there for too long.
A going home outfit for baby -Bring both newborn and size 0-3 clothes to be prepared
Socks -My hospital did not provide any socks at all so you'll want to have these to keep the baby's feet warm.
Hats-This was provided for me at the hospital, but you can bring a different hat if you'd like.
Sleepers/Pajamas-I recommend the zip up sleepers with inverted zippers or open baby gowns so you don't have undress baby completely to change their diaper.
Receiving blankets- Perfect to swaddle baby in or for taking adorable pictures in!
A car seat-a requirement to leave the hospital
Your hospital will likely have diapers and wipes. It is also not necessary to bring personal hygiene items for babies like baby lotion, soap or shampoo. During your stay at the hospital, the baby will probably get a bath by the nurse or they will have baby wash for you to use if you plan on doing it yourself.
Are Diaper Bags Necessary?
If you're wondering "Do I need a diaper bag?" The short answer is yes.
Consider it your new mom purse. Unless you plan on carrying all of the non negotiable items I mentioned earlier in your bare hands, you will need a way to transport it all.
Life is going to throw a lot your way when it comes to outings with your baby, but think of a well packed diaper bag as your best defense.
The good news is that you are NOT stuck with an ugly diaper bag. Nor do you have to pick between functional or stylish.
Stylish, Best Diaper Bags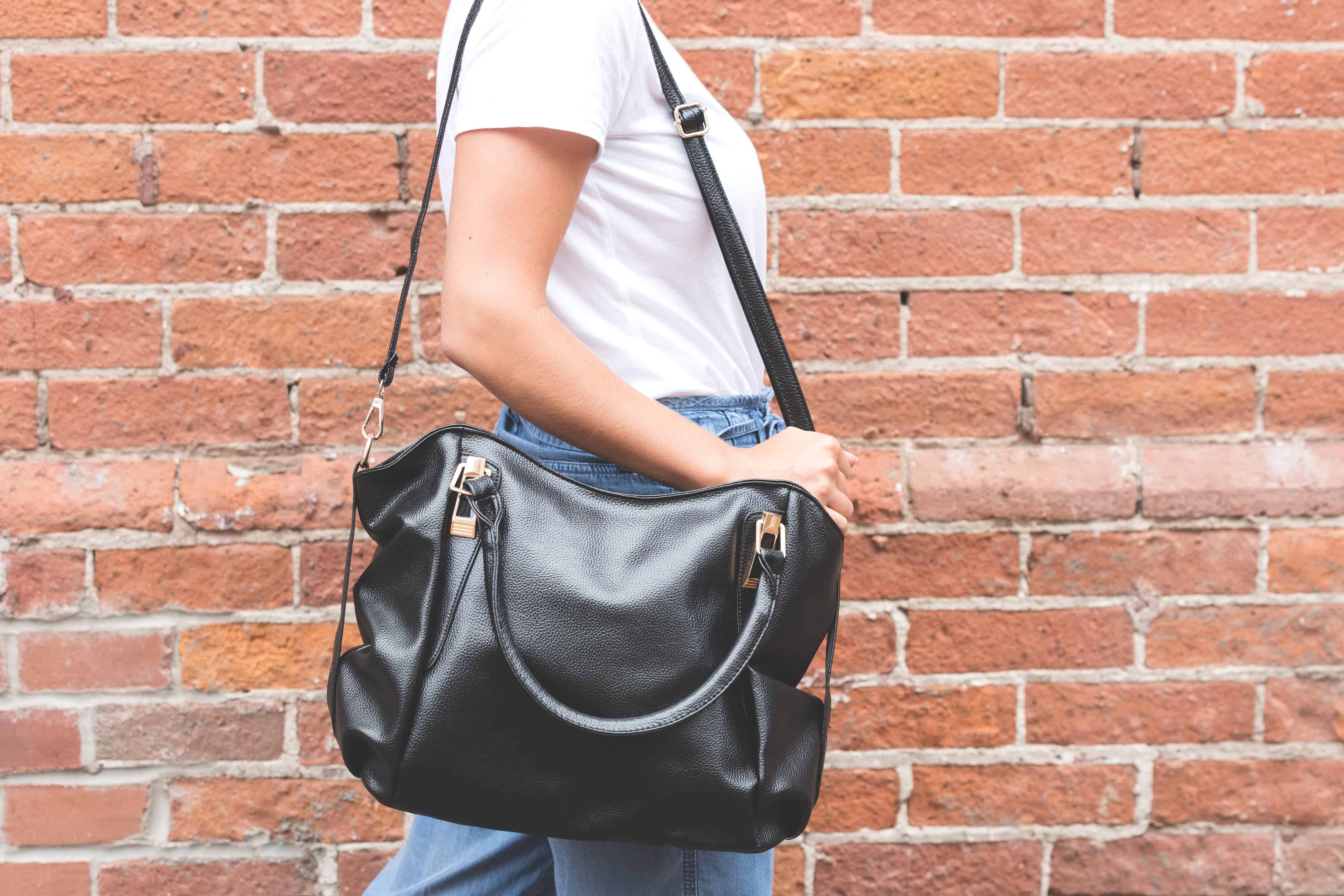 Where can you find some of the best, affordable stylish diaper bags? Look no further than Skip Hop!
These bags are so cute, you won't miss your purse. Plus it's a much better solution than trying to stuff all of this is in an oversized handbag and rummaging around for it in a crucial gotta have it now moment.
Check out the collection and see if there's anything that fits your style. They go on sale often, so check retailers such as Amazon, Carters and Buy Buy Baby.
These are my favorite Skip Hop backpack style diaper bags at the moment.
Skip Hop Diaper Bag Backpack, Greenwich
Check Current Price or Buy Here!
I personally purchased this bag back shortly after my daughter was born and I absolutely love it.
Skip Hop Diaper Bag Backpack, Greenwich Multi-Function Baby Travel Bag
Check current price or buy here!
Did you find this list helpful? Let me know! If there's anything else you'd like to ask share with me, I'm all about helpful baby hacks.
Here's to more happy and prepared outings with your little one!
If you liked this packing list you'll love this one about what to wear during your post hospital stay after labor and delivery!