A Guide to Choosing the Right Deodorant During Pregnancy
During pregnancy, it is common that your body odor becomes a little different, and often stronger. Because of hormonal changes, and the fact that you might just be sweating more in general, you may experience more unpleasant body odor during this time.
This can be a problem if your sense of smell is also heightened due to pregnancy!
Unfortunately, many common deodorants contain potentially harmful ingredients, which can make the problem of body odor an even more annoying one.
Many women already feel overwhelmed by the number of choices they are presented with when it comes to pregnancy, and choosing a pregnancy safe deodorant is just another choice to make!
To help simplify the decision for you, here are some tips on what to pay attention to, as well as a list of some of the best pregnancy deodorant choices.
What to look for in a pregnancy safe deodorant
When it comes to choosing a deodorant that you can feel (and smell!) good about, there are a few things you will want to keep in mind.
• Ingredients
Many ingredients that are commonly found in popular, big-name brands of deodorant have been at least loosely linked to negative side effects when exposed over time.
Because deodorant is a daily-use product, you might want to stay away from ingredients that even have the potential to disrupt your body or your developing baby.
Some of the top ingredients linked to potential negative side effects are aluminum, phthalates, parabens, triclosan, and fragrances. (While scents can come from natural sources such as essential oils, the lack of regulation on the terms "fragrance" means that some synthetic scents might contain harmful chemical ingredients.)
Even "clean" brands of deodorant might have some of these ingredients, so it is always important to read the label.
If you would like to be cautious with your choices during pregnancy, a good rule of thumb is to look for short ingredient lists with pronounceable, recognizable ingredients.
• Effectiveness
While avoiding potentially harmful ingredients is key when looking for a pregnancy safe deodorant, chances are you would also like it to work!
You might need to test a few natural deodorant options before finding one that works well for you. Every body is different!
Keep in mind that if you are switching from a regular deodorant to a more natural option, you may experience a detox period in which your body odor increases. After a week or two, your body should adjust to the new routine.
Another thing to keep in mind when it comes to effectiveness is the difference between an antiperspirant and a deodorant.
Aluminum is one of the most common antiperspirant (sweat blocking) ingredients, so if you are switching to an aluminum-free option, be prepared to experience more sweat.
Even though it's not the direct source of unpleasant body odor, some women might be put off by the increased amount of sweating they experience.
The best pregnancy deodorant options
Here are six of the best choices for pregnancy safe deodorants:
Native Deodorant

Native deodorant can be found in many stores and is one of the more popular natural deodorant brands. It uses baking powder, arrowroot, and tapioca starch to help curb odors and absorb sweat, and does not contain phthalates, aluminum, or sulfates. This deodorant is also available in several scents that all come from natural ingredients.
Earth Mama Deodorant

The Earth Mama brand can be found in many health food stores and some larger retail locations, or purchased online. Made with all natural, organic ingredients, this is a gentle, effective deodorant option for those who want to avoid all the potentially harmful ingredients of a more traditional deodorant.
There is the simply non scents deodorant if you don't want any scents or they're getting on your nerves.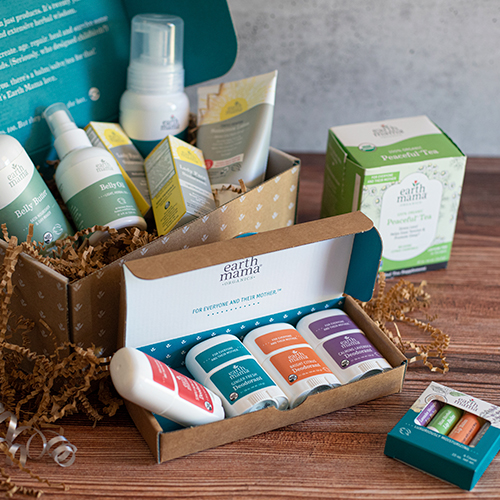 Earth Mama is a brand already committed to making safe products for pregnant moms and babies, which will make some health-conscious mothers more comfortable.
Humble Brands All Natural Deodorant

Humble Brands all-natural deodorants come in a variety of scents and sizes, including a plastic-free version for the earth-conscious mamas-to-be! They are free of aluminum, talc, parabens, and synthetic fragrances. When you purchase through their website, you can choose bundles to try multiple scents, or pick travel sizes if you are still deciding which brand of pregnancy safe deodorant is right for you.
Lume Deodorant

Lume's vegan, cruelty-free deodorants are made to be used anywhere, not just armpits. This can be especially appealing for pregnant moms who are experiencing body odor in locations other than their underarms, as the formulas are made for sensitive skin. Free of baking soda and aluminum both, Lume deodorants are not anti-perspirants, but are long-lasting and effective in preventing body odor.
Tom's of Maine Deodorant

Tom's of Maine is a popular natural product brand that can also be found in many department stores. Aloe juice and sodium stearate are the types of ingredients they use, as they steer clear of aluminum and harmful chemical fragrances. Tom's of Maine is also a cruelty-free brand, so you can feel extra good about your choice to use it during your pregnancy for odor control.
Pacifica Beauty Deodorant Wipes

If you aren't bothered by a little sweat, but want to be able to refresh your underarms and reduce odors during the day, the Pacifica Beauty Deodorant Wipes might be a great choice. The wipes are made with natural, safe ingredients like coconut milk, essential oils, and witch hazel to help promote freshness. Since they aren't an antiperspirant, they do not contain aluminum, and they are also free of parabens and phthalates.
Alternatives to deodorant while pregnant

If you would rather skip deodorant all together while pregnant and go for an even more pared-down option, you could give these easy one-ingredient alternatives a try.
While they might not block odor completely, all of these options have anti-bacterial or astringent properties that might help reduce odors and keep you feeling fresh without the chemicals.
• Coconut Oil
• Baking Soda
• Witch Hazel
• Mineral Crystal Deodorant
• Aloe Vera
Whatever you decide to use during pregnancy, remember that pregnancy body odor is temporary, and that you might be smelling it more than anyone else around you even is!
Don't be afraid to give your body some time to detox, try out a few different brands, and find what works best for you.
Who knows? If you find a brand you love, you might never even go back to what you were using before!
Related: What To Wear After Giving Birth